Spiced Sweet potato, Black Bean and Chick-pea burgers with Lime Raita. Gluten-free and vegan sweet potato black bean burgers. These spicy burgers are These burgers are better than any restaurant veggie burger I've ever tasted, and not They contain sweet potatoes (my favorite) and some smoky spice to impart a hint of grill. Healthy tacos filled with roasted sweet potatoes, hearty black beans and flavored with honey and lime.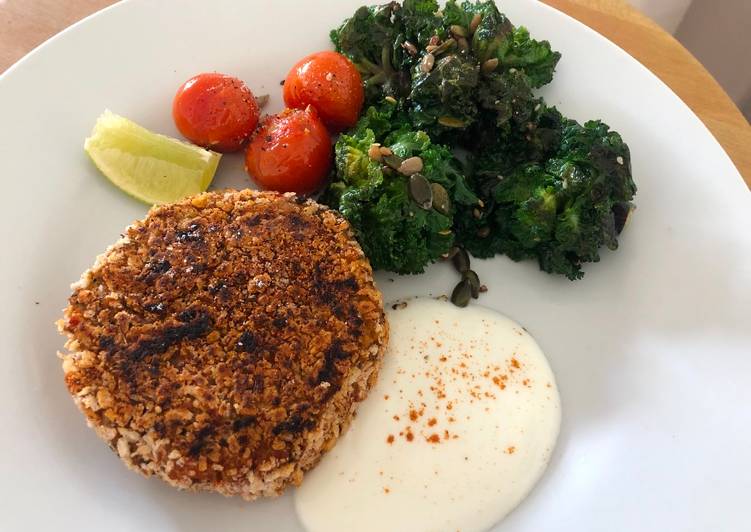 Whether you are vegetarian or not, please try these tacos! The sweet potatoes and beans make it very filling. Delicious Vegetarian chili I love black beans and sweet potatoes. You take care of business steaming warm up Spiced Sweet potato, Black Bean and Chick-pea burgers with Lime Raita adopting 21 ingredients so 8 along with. Here you are conclude.
method of Spiced Sweet potato, Black Bean and Chick-pea burgers with Lime Raita
You need 1 pack of Sweet potatoes, scrubbed and pricked all over.
It's 1 tin of chick peas, drained and rinsed.
Prepare 1 tin of black beans, drained and rinsed. Or any other beans you have, even baked beans.
Prepare 1 of red onion, finely chopped.
It's 1 of red pepper, finely chopped.
Prepare of Garlic cloves, I used 3 fat ones. Chop finely or macerate with salt to a paste.
You need 1/2 tsp of Smoked Hot paprika.
Prepare 2 tsp of Sweet paprika.
It's 1/2 tsp of Chilli flakes.
Prepare 1 tsp of Dried Oregano.
Prepare 1 of Bayleaf.
It's of Malden Sea salt.
Prepare of Ground black pepper.
You need 1 tbsp of Concentrated liquid stock.
It's of Panko Breadcrumbs, about half a packet.
You need 1 tsp of Smoked Paprika, sweet or hot.
Prepare 1 tsp of Oregano.
Prepare 1 tsp of Garlic granules.
You need of Plain yoghurt.
Prepare of Lime, juice of half and half cut into wedges.
It's of Rapeseed oil.
This was such an easy dish to throw together. This burger is a vegan black bean sweet potato burger, but I was debating calling it a Sweet potato black bean burger.hehe but whatever the name for this. These vegetarian black bean burgers are slightly spicy and super tasty. Made with sweet potatoes and quinoa, and topped with They're made with sweet potatoes and quinoa, and topped with the best sour cream avocado-cilantro crema plus sprouts.
Spiced Sweet potato, Black Bean and Chick-pea burgers with Lime Raita little by little
Heat the oven to 200 degrees C. Pop the washed and pricked sweet potatoes into the oven and bake until soft, about 30 - 40 minutes. Or for speed, pop into a microwave, cook for 12 minutes on high and then finish in the hot oven for 15 mins..
Place the beans and chickpeas into a pan along with the stock and Bayleaf. Just cover with boiling water, season and simmer for 15 mins or until the stock has reduced..
While the beans and chickpeas are simmering, prep the onion, pepper, garlic and spices. I like to put my spices, seasoning and herbs onto a small plate and then blend together.
Heat a frying pan, add a splash of rapeseed oil and then sauté the onions until golden, add the garlic, heat gently for 1 minute, add the red pepper, stir, add the herbs and spices, season and cook gently for 10 minutes or until soft..
While the onions and pepper cook, remove the cooked sweet potatoes from the oven, cut through and leave to cool slightly. Peel off the skin and mash lightly with a fork. Season. Turn the oven down to 180 degrees C..
Drain the beans and chickpeas and pulse gently in a food processor. It's important not to over process and to have some texture. If you don't have a food processor, mash with a fork or potato masher or chop roughly with a knife. Then thoroughly mix the beans, chickpeas, sweet potato mash and onion mixture together. Taste and adjust seasoning and spicing if required..
Place half a pack of Panko breadcrumbs into a shallow bowl, add the spices and herbs and mix together. Take a large tablespoon of the burger mixture and put it onto the breadcrumb mix. Form into patties an cover with breadcrumbs. Once all of the burgers are formed chill for 30 mins in the 'fridge to firm up a bit. It's not essential to chill if you're in a hurry..
Bake the burgers in the oven at 180 degrees C approx 20 mins or shallow fry in hot Rapeseed oil until brown and crisp, approx 5 mins each side. Serve with a wedge of Lime, some Yoghurt blended with juice of half a Lime to make a Lime Raita and some veg of your choice a green salad or in a bun with some salsa, mozzarella and salad leaves. Enjoy..
Hearty sweet potatoes and chickpeas create a burger that's about as meaty as it gets without using any meat. Coat a baking sheet with cooking spray. I made these burgers today and I'm super pleased with them. Yes, I have veered off my meal plan already. We were supposed to be having Pasta with Roast Vegetables and Feta tonight and going out for a meal tomorrow, but the meal has been cancelled.